Susane Gilbert, Special Projects Support Coordinator with North Branch Construction
Why I chose a career in the construction industry:
I grew up in a house where my dad was always building or remodeling, and my oldest brother owned his own construction business. Being in that environment made me interested in how buildings were designed, the reasons behind those designs, and how society was able to construct such amazing buildings over the years with various forms of tools and equipment.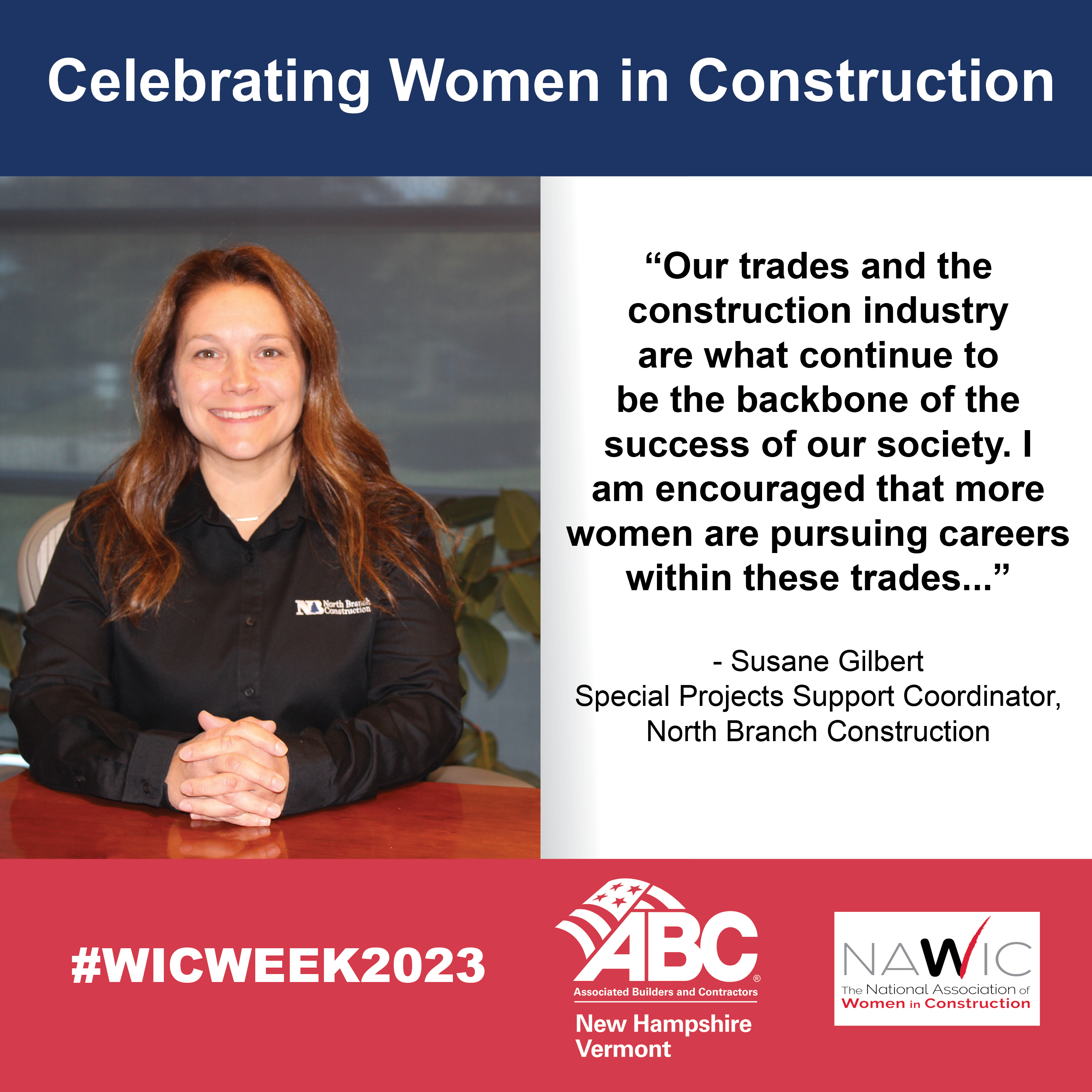 What training or education did you need for your current role?
I started my career with a Bachelor of Arts in Mathematics and an Associate Degree in Architecture. From that I was able to start my career as a basic CAD designer with a design-build contractor, moving up to an architectural designer with an award-winning architecture firm. That was where I got my taste for project management and went back to school and received a Graduate Certificate in Project Management. With this certificate, I started as an assistant project manager for a developer working my way up the ladder in my 18-year tenure to senior project manager, building hundreds of high-end homes in both NH and MA. My education and training changed based on how I wanted my career to proceed, and I added education as I felt necessary for the position I wanted to achieve. I have since received my Associate Degree in Accounting so that I can better understand the numbers side of construction.

What is a typical day like in your position?
My day consists of meeting with clients to discuss their needs and desires, reviewing designs with architects and engineers, working with subcontractors on submittals, contracts, and construction clarifications, preparing bid documents and reviewing proposals, and working alongside our own team of supervisors, project engineers, accounting, and project managers.

What do you enjoy most about your career?
The best part of my job is the hands-on learning in a team-oriented environment that allows for failures along with victories. Everyone I have worked with in my career has had an impact on who I am as a project manager and where I am right now. I enjoy working side-by-side with amazing people who have varied backgrounds in construction, that are willing to teach me their knowledge so that I can grow as an individual. All of this while designing and building amazing projects, such as custom homes for amazing clients and manufacturing facilities that make our world a safer place.

What's the most interesting project you've worked on?
I have built hundreds of homes, condominiums, and apartments for so many amazing homeowners. But the one project that led my career on its current path was when I was given the opportunity to assist with the project administration with the architect of the Concord Hospital satellite facility at Horseshoe Pond. Being able to work alongside the project architect with submittals, RFIs, on-site walkthroughs, and meetings with the builder and subcontractors is what led me to pursue my Graduate Certificate in Project Management. Even at the time, my young sons recognized the accomplishment and loved driving by the building and yelling, "That's Mommy's building." I still go into those medical offices, smiling with accomplishment knowing that I helped design and build a beautiful functional building that will stand the test of time.

What advice do you have for women who want to work in the construction industry?
I would suggest starting with acquiring a basic knowledge of construction through a technical school or certificate program. Then find yourself a company that empowers you to learn and grow while working alongside men and women who can guide you through the process. Know that you are going to have to work hard to advance, but each step brings you closer and makes you a stronger individual. Share your triumphs with other women and assist them in achieving their goals.

Is there anything else you'd like to add? Our trades and the construction industry are what continue to be the backbone of the success of our society. I am encouraged that more women are pursuing careers within these trades and that the industry is offering up those opportunities for them to succeed. Society as a whole is changing its view of our industry as male-dominated and realizing that women are key contributors to launching it into the future.