This week we celebrate Women in Construction Week (WIC) and the many women who work in and make important contributions to our industry every day! We are pleased to share the stories from many of the women who work and live in NH and VT. The project was created in partnership with I Build NH and NAWIC Granite State Chapter.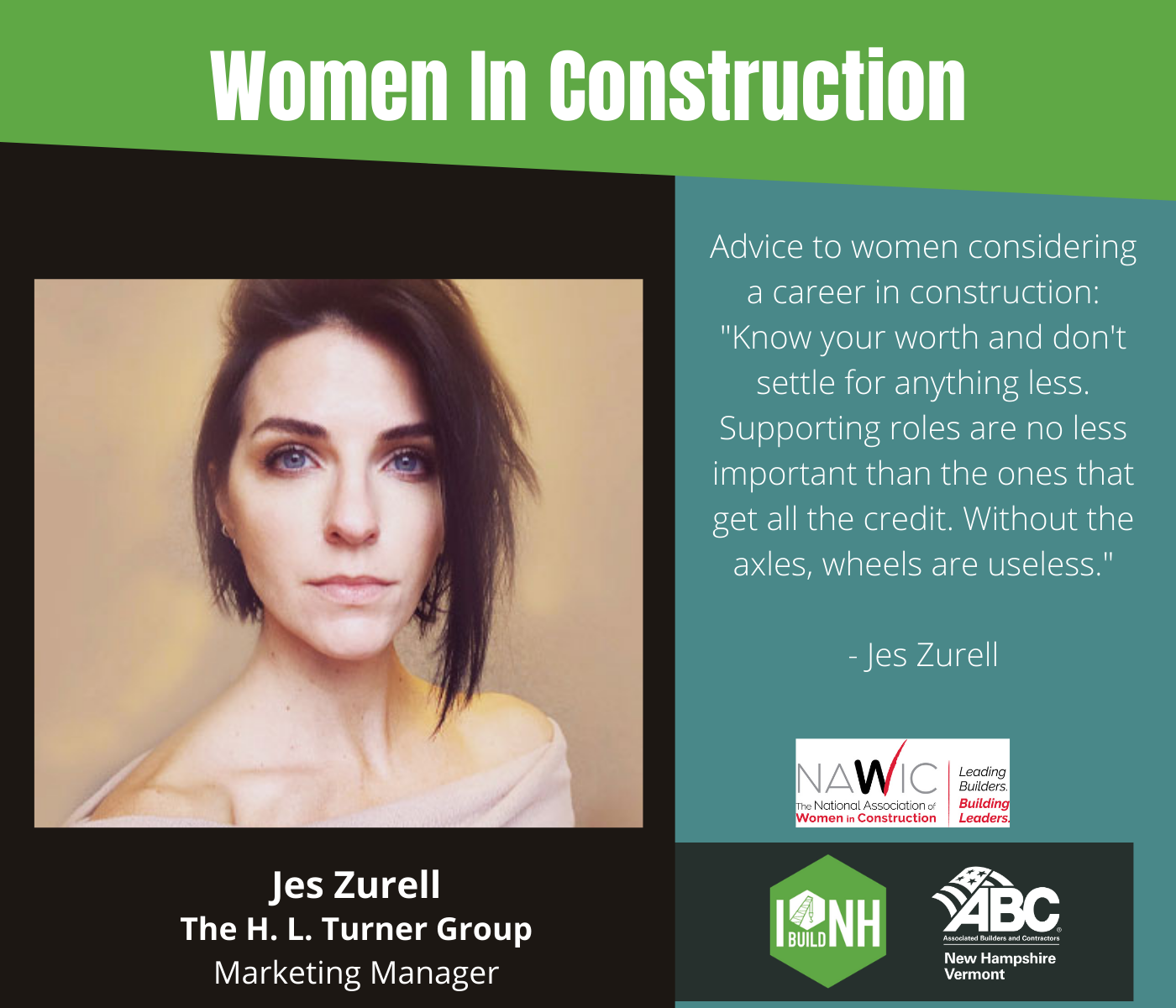 Why construction?
Both of my parents worked in the industry – my dad was a structural engineer and my mom managed an architect's office. My current job at The H. L. Turner Group allows me to use my skills as a writer and marketer in an environment that feels like home.
What is your education/training background?
I have a B.F.A. in design and an M.A. in Communications from Syracuse University, both of which help me as a storyteller (which every marketing professional needs to be!).
How did you find yourself working in the construction industry?
I'd spent several years working in higher ed marketing, and was looking to move into a more tight-knit environment. I was glad to be able to go from a workplace with 7,000 employees to one with fewer than 50.
What do you enjoy most about your career?
I enjoy finding areas where my skills complement those of the architects and engineers on my team. Every day is a new opportunity to find ways to shine a light on the great work our company does. Many of our projects are for schools and municipalities, and directly impact communities around New England in a tangible way. I feel lucky because it's my job to spread the word about those projects. While I'm neither an architect nor an engineer, I still feel like I play a crucial role in the process and find incredible fulfillment in my work.
What's the most interesting project you've worked on?
Prior to my joining the company, The H. L. Turner Group never did email marketing. This was absolutely shocking to me! There were no contact lists, no analytics, no quarterly newsletters, no regular outreach to past, present, or potential clients. One of my first projects here was to build out an email marketing strategy from the ground up, and I've learned a great deal about our client base in a short amount of time.
What advice do you have for women who want to work in the construction industry?
Know your worth and don't settle for anything less. Supporting roles are no less important than the ones that get all the credit. Without the axles, wheels are useless.
###
ABC NH/VT
Associated Builders and Contractors (ABC) is a national construction industry trade association representing nearly 21,000 chapter members. Founded on the merit shop philosophy, ABC and its 70 chapters help members develop people, win work and deliver that work safely, ethically, profitably and for the betterment of the communities in which ABC and its members work. ABC's membership represents all specialties within the U.S. construction industry and is comprised primarily of firms that perform work in the industrial and commercial sectors.
I Build New Hampshire
I Build NH represents the construction sector of the state through the Sector Partnerships Initiative (SPI). I Build NH represents companies involved in heavy construction like municipal water treatment systems and road building, electric and telecommunication infrastructure, civil engineering, heating/ventilation/air conditioning businesses and more.
National Association of Women in Construction
The National Association of Women in Construction (NAWIC) has over 115 chapters throughout the United States, including the NAWIC Granite State Chapter. NAWIC provides its members with opportunities for professional development, education, networking, leadership training, public service and more. NAWIC advocates for the value and impact of women builders, professionals and tradeswomen in all aspects of the construction industry.