This week we celebrate Women in Construction Week (WIC) and the many women who work in and make important contributions to our industry every day! We are pleased to share the stories from many of the women who work and live in NH and VT. The project was created in partnership with I Build NH and NAWIC Granite State Chapter.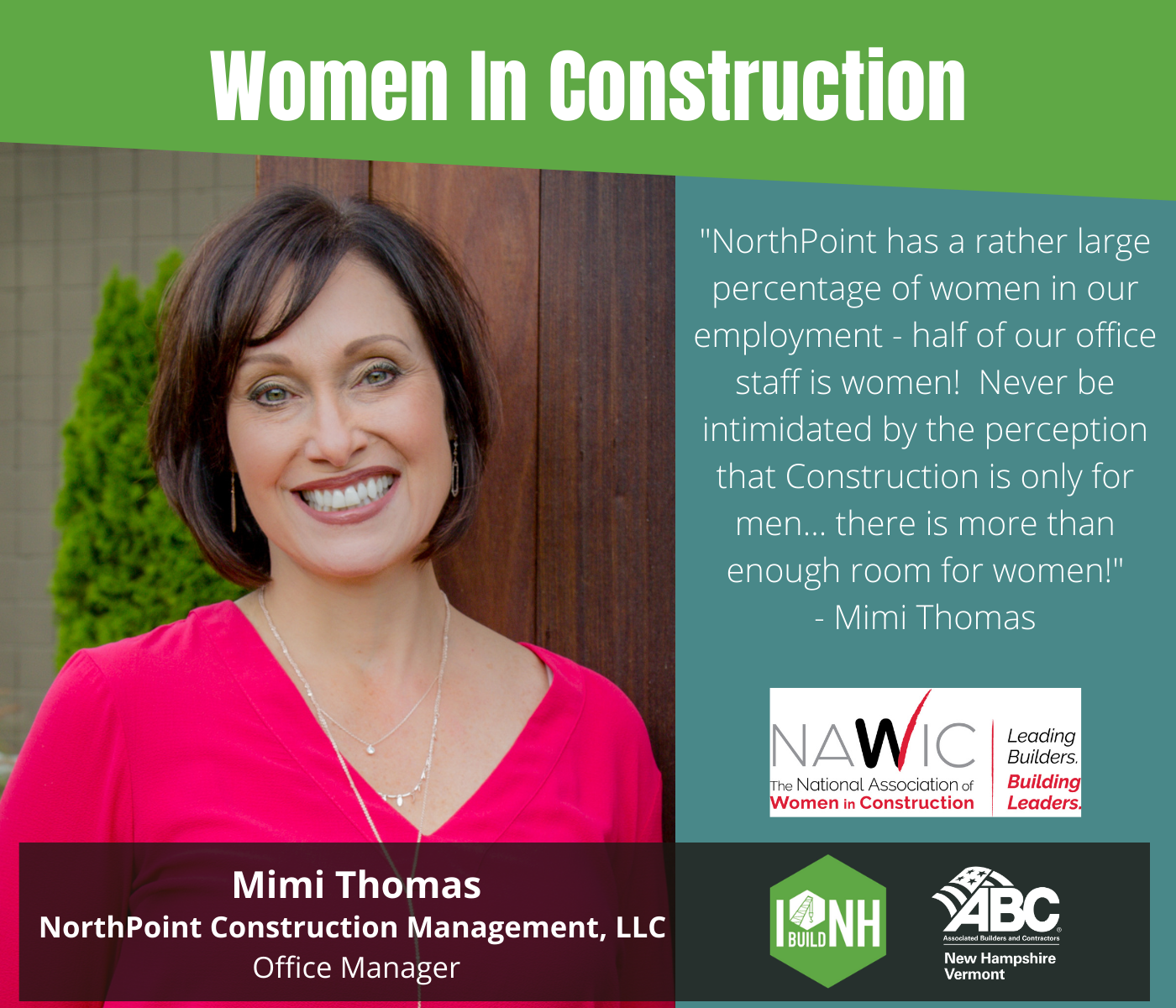 Why construction?
My career in the industry was quite unintentional. In looking back it was a path I am grateful I landed on! It has been, and continues to be very rewarding to be involved with projects that you can see from beginning to end and know you had a hand in the finished product!
What is your education/training background?
I have a bachelor's degree in communication from the University of New Hampshire with a minor in English. My first job was assisting in management for The Flatley Company of properties located in MA and NH. This position introduced me to the construction world. Many of the commercial spaces I helped manage were continuously being redone to suit new leases and businesses.
How did you find yourself working in the construction industry?
Many years ago Gary, the owner of NorthPoint Construction, asked me to "temporarily" cover the reception desk for a few weeks until he could find someone for the job. Fifteen years later, temporary became permanent and I never left NorthPoint. The knowledge and experience I have gained from working in the industry is endless. I have had an amazing opportunity to be very involved in the business side of the company.
What do you enjoy most about your career?
I truly love the fast pace that construction functions in! This career is far from boring, and changes every day! My role at NorthPoint now is wearing ALL the hats.... being married to Gary has involved me with so many aspects of the business. I have loved watching the company grow and change as we stay "current" in the industry's expectations.
Additionally, NorthPoint prides itself as having a strong presence in the community, especially as it relates to children. I have been fortunate to be involved with several organizations that make a tremendous impact on the lives of kids! Supporting The Boys and Girls Club of Nashua and Catie's Closet have become a big part of the NorthPoint culture. I am very proud of everything we have done for them!
What's the most interesting project you've worked on?
There are so many that are on my list...but my favorite is the project we did on Elm Street in Manchester, NH. NorthPoint converted the ten story, Citizens Bank building, into 91 apartments. A majority of these were unique as oddly shaped floor plans did not allow for "cookie cutter" units. The most impressive part was that this entire project was completed in under 12 months - it was on an extremely accelerated schedule. Demo started in August and the following August units were completed and being shown for rentals. I was able to visit the project several times throughout the construction period and witness the transformation of this building into beautiful living spaces.
What advice do you have for women who want to work in the construction industry?
We are fortunate that we are at a point in this business where women are definitely sharing in the success that construction offers. NorthPoint has a rather large percentage of women in our employment - half of our office staff is women! Never be intimidated by the perception that Construction is only for men... there is more than enough room for women!!!
###
ABC NH/VT
Associated Builders and Contractors (ABC) is a national construction industry trade association representing nearly 21,000 chapter members. Founded on the merit shop philosophy, ABC and its 70 chapters help members develop people, win work and deliver that work safely, ethically, profitably and for the betterment of the communities in which ABC and its members work. ABC's membership represents all specialties within the U.S. construction industry and is comprised primarily of firms that perform work in the industrial and commercial sectors.
I Build New Hampshire
I Build NH represents the construction sector of the state through the Sector Partnerships Initiative (SPI). I Build NH represents companies involved in heavy construction like municipal water treatment systems and road building, electric and telecommunication infrastructure, civil engineering, heating/ventilation/air conditioning businesses and more.
National Association of Women in Construction
The National Association of Women in Construction (NAWIC) has over 115 chapters throughout the United States, including the NAWIC Granite State Chapter. NAWIC provides its members with opportunities for professional development, education, networking, leadership training, public service and more. NAWIC advocates for the value and impact of women builders, professionals and tradeswomen in all aspects of the construction industry.