This week we celebrate Women in Construction Week (WIC) and the many women who work in and make important contributions to our industry every day! We are pleased to share the stories from many of the women who work and live in NH and VT. The project was created in partnership with I Build NH and NAWIC Granite State Chapter.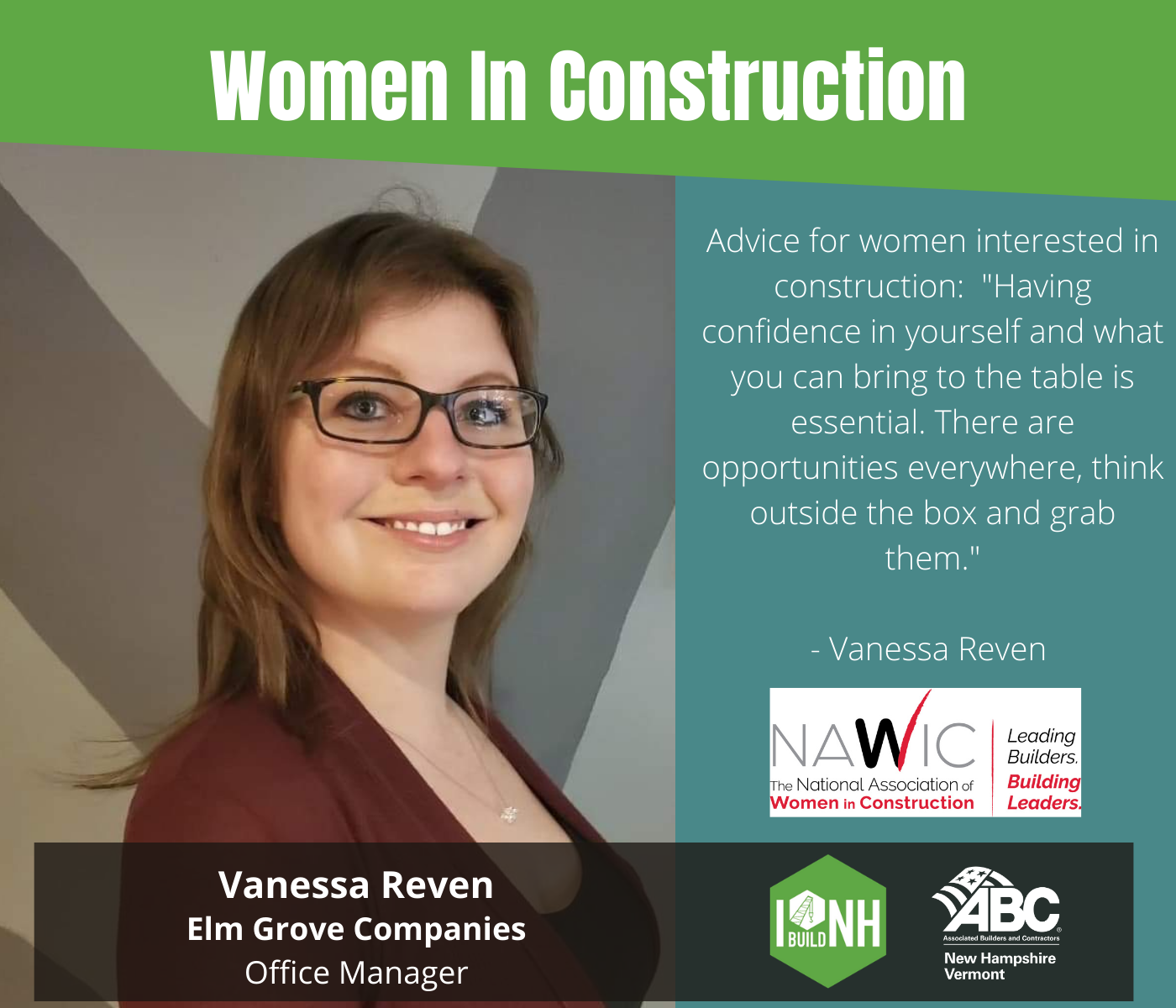 Why construction?
Seeing big projects from start to finish, with the big picture always in the back of my mind, is rewarding, and exciting. Working with Elm Grove and knowing we can take an old building and make it something that will benefit Manchester and the surrounding community is great to see and be part of.
What is your education/training background?
I graduated from High School and have taken college courses. I have worked in many different industries before I settled on Elm Grove.
How did you find yourself working in the construction industry?
I started Elm Grove in 2016. Once I moved into the construction side of the company, I never looked back. I am involved in many projects and the guidance from my team has been instrumental to its success.
What do you enjoy most about your career?
Elm Grove prides itself on looking for more efficient and innovative ways to accomplish a common goal. I enjoy being a fundamental part of this team.
What's the most interesting project you've worked on?
Elm Grove's restoration of the former Ted Hebert's Music Hall in Manchester fills me with awe. Turning a rundown and partially unused building into what it is today is amazing to see. The new restaurant Blue Aqua, the three floors of smart apartments and the spacious entertainment area in the basement has returned this building to Manchester, and Elm Grove accomplished this.
What advice do you have for women who want to work in the construction industry?
Having confidence in yourself and what you can bring to the table is essential. There are opportunities everywhere, think outside the box and grab them.
###
ABC NH/VT
Associated Builders and Contractors (ABC) is a national construction industry trade association representing nearly 21,000 chapter members. Founded on the merit shop philosophy, ABC and its 70 chapters help members develop people, win work and deliver that work safely, ethically, profitably and for the betterment of the communities in which ABC and its members work. ABC's membership represents all specialties within the U.S. construction industry and is comprised primarily of firms that perform work in the industrial and commercial sectors.
I Build New Hampshire
I Build NH represents the construction sector of the state through the Sector Partnerships Initiative (SPI). I Build NH represents companies involved in heavy construction like municipal water treatment systems and road building, electric and telecommunication infrastructure, civil engineering, heating/ventilation/air conditioning businesses and more.
National Association of Women in Construction
The National Association of Women in Construction (NAWIC) has over 115 chapters throughout the United States, including the NAWIC Granite State Chapter. NAWIC provides its members with opportunities for professional development, education, networking, leadership training, public service and more. NAWIC advocates for the value and impact of women builders, professionals and tradeswomen in all aspects of the construction industry.