This week we celebrate Women in Construction Week (WIC) and the many women who work in and make important contributions to our industry every day! We are pleased to share the stories from many of the women who work and live in NH and VT. The project was created in partnership with I Build NH and NAWIC Granite State Chapter.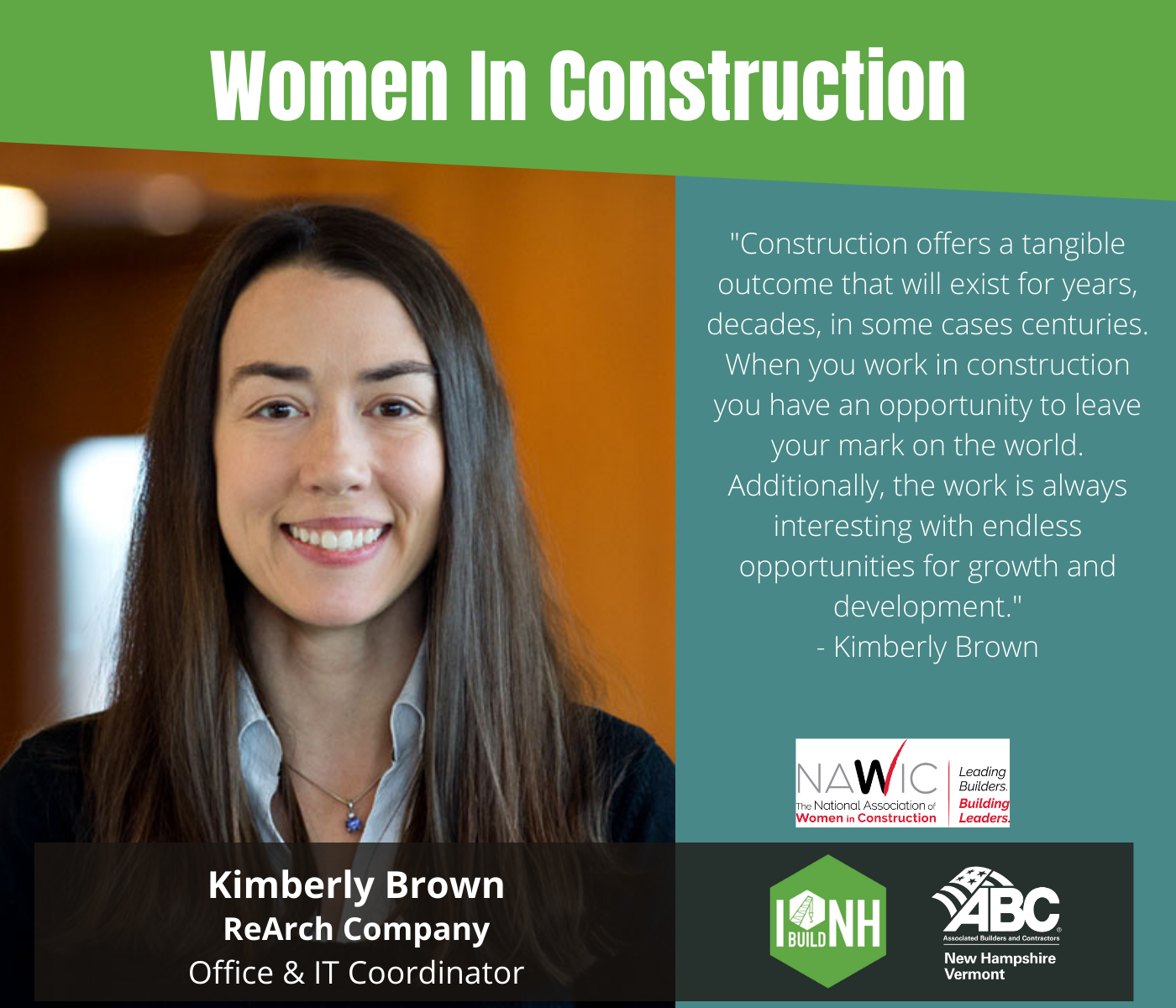 Why construction?
Construction offers a tangible outcome that will exist for years, decades, in some cases centuries. When you work in construction you have an opportunity to leave your mark on the world. Additionally, the work is always interesting with endless opportunities for growth and development. As a military spouse I moved often so I am thankful the skills I have developed in construction are transferable.
What is your education/training background?
Much of my experience has come from on-the-job training. However, I do hold a degree in Business Administration. My first position in construction was as an administrative assistant to an electrical estimator. I worked in that position while taking night classes. That role, my degree, and the relationships I forged allowed me to move into a more advanced project administrator position. From there I have kept myself open to learning from those around me, asking questions, and taking on new challenges.
How did you find yourself working in the construction industry?
Construction was a natural step for me after starting my professional life in real estate sales. I enjoyed the work I was doing in real estate helping people find the right home and helping them manage the process, but I did not love sales. The people and process management skills I developed easily transferred to construction where I have remained for almost 20 years. The people, process, and opportunities keep me here.
What do you enjoy most about your career?
The best part of my job is having the chance to use my planning and problem-solving skills. I never expected to enjoy technology as much as I do but it is very rewarding. No two days are ever the same and there is always something new to learn. I feel limited only by the hours in the day. Plus, I work with an incredible group of people.
What's the most interesting project you've worked on?
The JSC SHAPE facility stands out as the most interesting. Though not the largest project I have worked on, it was an occupied space with a very tight schedule. The project left little room for error so of course it felt like anything outside of our control challenged us. From a custom tile order that sank in the ocean, during transit, to finding a natural spring in the elevator shaft. Despite the odds we delivered the project to a very satisfied client in time for the grand opening. Working together as a team to overcome some of the most unexpected challenges has always stuck with me.
What advice do you have for women who want to work in the construction industry?
There are no limits to what you can do in construction from learning a trade to project management, design, and construction technology. The diverse offerings, community, and opportunity to leave your mark on the world are just a few of the reasons I think construction is one of the best fields for women.
###
ABC NH/VT
Associated Builders and Contractors (ABC) is a national construction industry trade association representing nearly 21,000 chapter members. Founded on the merit shop philosophy, ABC and its 70 chapters help members develop people, win work and deliver that work safely, ethically, profitably and for the betterment of the communities in which ABC and its members work. ABC's membership represents all specialties within the U.S. construction industry and is comprised primarily of firms that perform work in the industrial and commercial sectors.
I Build New Hampshire
I Build NH represents the construction sector of the state through the Sector Partnerships Initiative (SPI). I Build NH represents companies involved in heavy construction like municipal water treatment systems and road building, electric and telecommunication infrastructure, civil engineering, heating/ventilation/air conditioning businesses and more.
National Association of Women in Construction
The National Association of Women in Construction (NAWIC) has over 115 chapters throughout the United States, including the NAWIC Granite State Chapter. NAWIC provides its members with opportunities for professional development, education, networking, leadership training, public service and more. NAWIC advocates for the value and impact of women builders, professionals and tradeswomen in all aspects of the construction industry.