This week we celebrate Women in Construction Week (WIC) and the many women who work in and make important contributions to our industry every day! We are pleased to share the stories from many of the women who work and live in NH and VT. The project was created in partnership with I Build NH and NAWIC Granite State Chapter.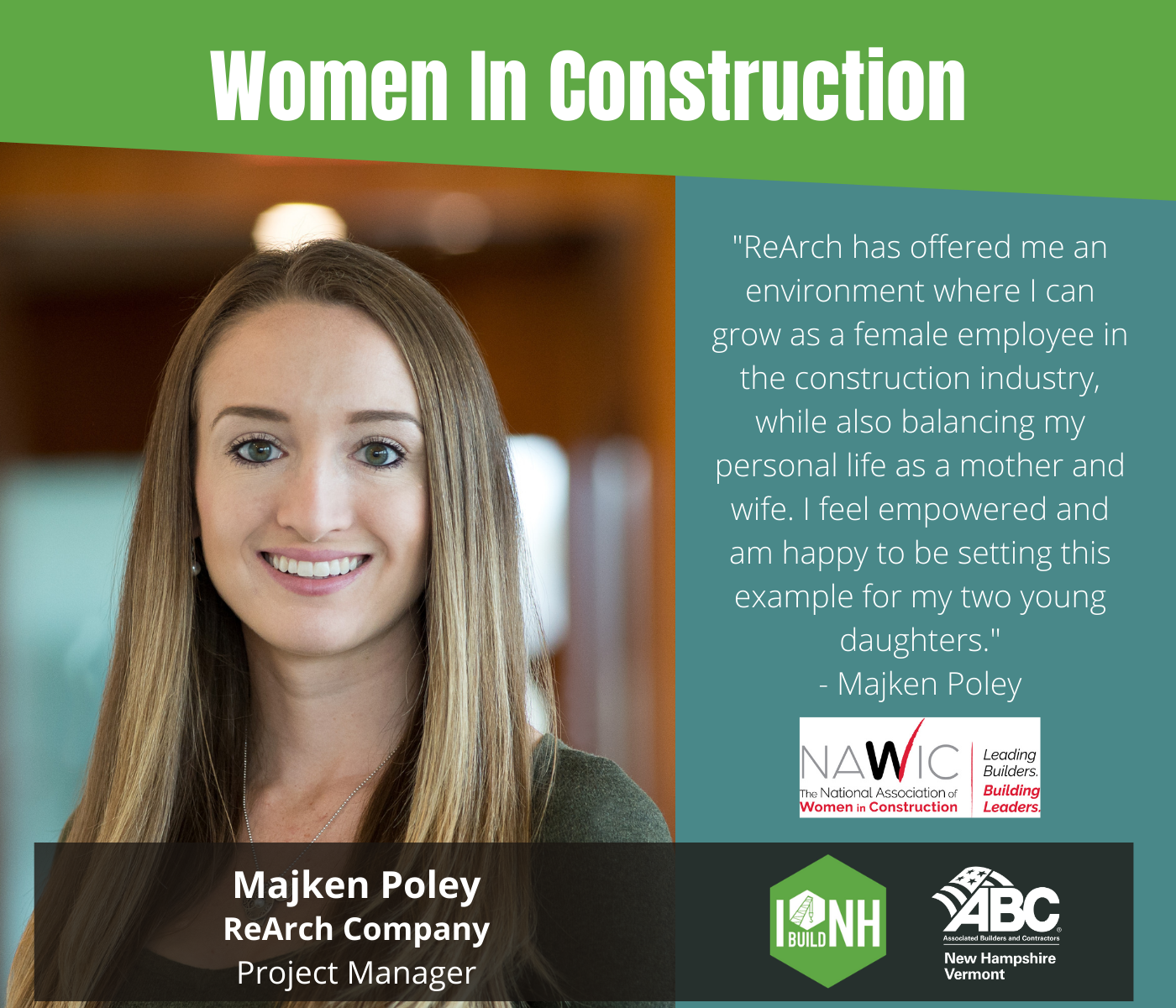 Why construction?
My father and grandfather were both in the construction industry. I grew up loving to watch my dad renovate and build. I have always had interest in the building process and strength in management (that trait certainly comes from my mother). Construction management allows me to merge both my interests and strengths into a career I can be proud of.
What is your education/training background?
I went to Vermont Technical College, graduating with a degree in Architectural Engineering Technology.
How did you find yourself working in the construction industry?
Upon graduation I had the opportunity to work full-time with a small residential design/build company that I had interned with during my senior year. I got a taste of office and project management while there. When a project management position opened up at ReArch, I knew that was right where I wanted to take my career.
What do you enjoy most about your career?
I enjoy seeing the end result of many months/years of hard work, as design concepts become reality. I am able to work on a team building new structures while also building lasting relationships with co-workers, subcontractors, and clients. It is incredibly rewarding.
What's the most interesting project you've worked on?
The Waterbury Municipal Complex renovation and addition as well as the Winooski School District renovation and additions.
What advice do you have for women who want to work in the construction industry?
Don't be afraid to put yourself out there. It can sometimes feel pretty male dominant, but don't let that hold you back. I have found so much support and respect in my role, regardless of my gender. More and more women are popping up in the industry, paving the way for the future of women in construction.
Is there anything else you'd like to add?
ReArch has offered me an environment where I can grow as a female employee in the construction industry, while also balancing my personal life as a mother and wife. I feel empowered and am happy to be setting this example for my two young daughters.
###
ABC NH/VT
Associated Builders and Contractors (ABC) is a national construction industry trade association representing nearly 21,000 chapter members. Founded on the merit shop philosophy, ABC and its 70 chapters help members develop people, win work and deliver that work safely, ethically, profitably and for the betterment of the communities in which ABC and its members work. ABC's membership represents all specialties within the U.S. construction industry and is comprised primarily of firms that perform work in the industrial and commercial sectors.
I Build New Hampshire
I Build NH represents the construction sector of the state through the Sector Partnerships Initiative (SPI). I Build NH represents companies involved in heavy construction like municipal water treatment systems and road building, electric and telecommunication infrastructure, civil engineering, heating/ventilation/air conditioning businesses and more.
National Association of Women in Construction
The National Association of Women in Construction (NAWIC) has over 115 chapters throughout the United States, including the NAWIC Granite State Chapter. NAWIC provides its members with opportunities for professional development, education, networking, leadership training, public service and more. NAWIC advocates for the value and impact of women builders, professionals and tradeswomen in all aspects of the construction industry.