This week we celebrate Women in Construction Week (WIC) and the many women who work in and make important contributions to our industry every day! We are pleased to share the stories from many of the women who work and live in NH and VT. The project was created in partnership with I Build NH and NAWIC Granite State Chapter.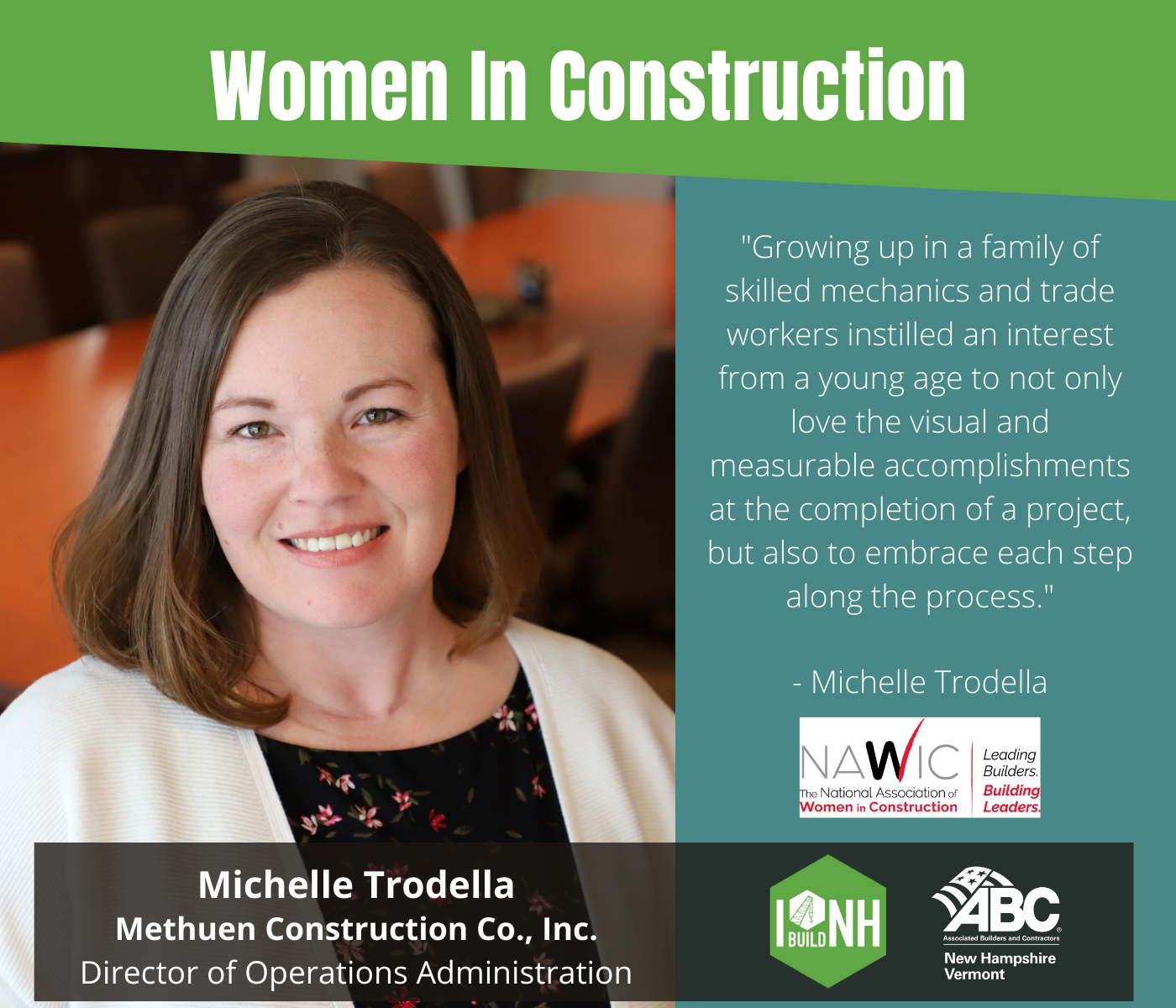 Why construction?
A career in the construction industry has always come natural to me. Growing up in a family of skilled mechanics and trade workers instilled an interest from a young age to not only love the visual and measurable accomplishments at the completion of a project, but also to embrace each step along the process as individual small achievements. Like many who have held the flashlight for their fathers while they worked on a project, that contribution albeit small was essential. Each individual role plays a part within the progression of the project progression and successful completion.
What is your education/training background?
My education and training background encompasses work experience with over 16 years of experience in the service, home improvement and construction industry, work study programs, industry specific practicum trainings, college degree as Paralegal with over 6 years' experience working for law firms, management training programs, current employer, Future Leader Program graduate, and ABC NH/VT FLiC graduate.
How did you find yourself working in the construction industry?
As a child, my Mom called me the "bag lady" because I could keep myself occupied for hours by organizing all my small toys, coloring supplies, and accessories into different brown lunch bags sorting them by color, size, and quantities.
The need for organization, order, and functionality has been a strong personality trait since the start. This led me to my decision to attend college for Paralegal Studies where I felt these qualities would align well with additional education knowledge. Although I spent over 6 collaborative years in this industry successfully, opportunities seemed to always arise in the service, home improvement and construction industries where my work experience and previous paralegal and support skills always aligned. It became clear that my interests, skills, and contributions would be better suited in the construction industry.
This decision to grow my career in this industry is one that I do not regret as it is rewarding and provides me with the opportunities to contribute to the order, organization and functionality of each project and procedure progression.
What do you enjoy most about your career?
The aspect of my career that I enjoy the most are those solution-based accomplishments that take a high level of research, development and analytics that require a team oriented, collaborative approach to complete the achieved result. I enjoy establishing and implementing lean practice procedures that can combine individual roles and practices into collaborative workflow outcomes. Aiding the project progression through collective resolutions that bring interdepartmental workflows towards smooth mutual practices makes each day rewarding.
What's the most interesting project you've worked on?
I have worked as a part of the project team on many challenging and intricate projects. Working as a part of the project team for the Peirce Island Wastewater Treatment Facility Upgrade was extremely rewarding to witness the multiyear progression of this phased upgrade, located on an island with challenging logistics, all the while keeping the city's services online throughout the whole project. This took a combined collaborative effort with great intricacy. Each person played an essential role in making this project successful in all project specific and compliance aspects.
What advice do you have for women who want to work in the construction industry?
1. Be confident in your areas of expertise and knowledge. Let it be known and contribute to the conversation or task at hand.
2. Stay humble but accept credit when given. Take pride in your accomplishments no matter how small the achievement or recognition.
3. Earn your seat at the table to speak, be heard, and be taken seriously through continuous hard work, dedication, job knowledge, and team support.
4. Never be afraid of not knowing the answer. By seeking assistance and guidance from experienced employees, you will not only gain their attention but also their respect.
###
ABC NH/VT
Associated Builders and Contractors (ABC) is a national construction industry trade association representing nearly 21,000 chapter members. Founded on the merit shop philosophy, ABC and its 70 chapters help members develop people, win work and deliver that work safely, ethically, profitably and for the betterment of the communities in which ABC and its members work. ABC's membership represents all specialties within the U.S. construction industry and is comprised primarily of firms that perform work in the industrial and commercial sectors.
I Build New Hampshire
I Build NH represents the construction sector of the state through the Sector Partnerships Initiative (SPI). I Build NH represents companies involved in heavy construction like municipal water treatment systems and road building, electric and telecommunication infrastructure, civil engineering, heating/ventilation/air conditioning businesses and more.
National Association of Women in Construction
The National Association of Women in Construction (NAWIC) has over 115 chapters throughout the United States, including the NAWIC Granite State Chapter. NAWIC provides its members with opportunities for professional development, education, networking, leadership training, public service and more. NAWIC advocates for the value and impact of women builders, professionals and tradeswomen in all aspects of the construction industry.