This week we celebrate Women in Construction Week (WIC) and the many women who work in and make important contributions to our industry every day! We are pleased to share the stories from many of the women who work and live in NH and VT. The project was created in partnership with I Build NH and NAWIC Granite State Chapter.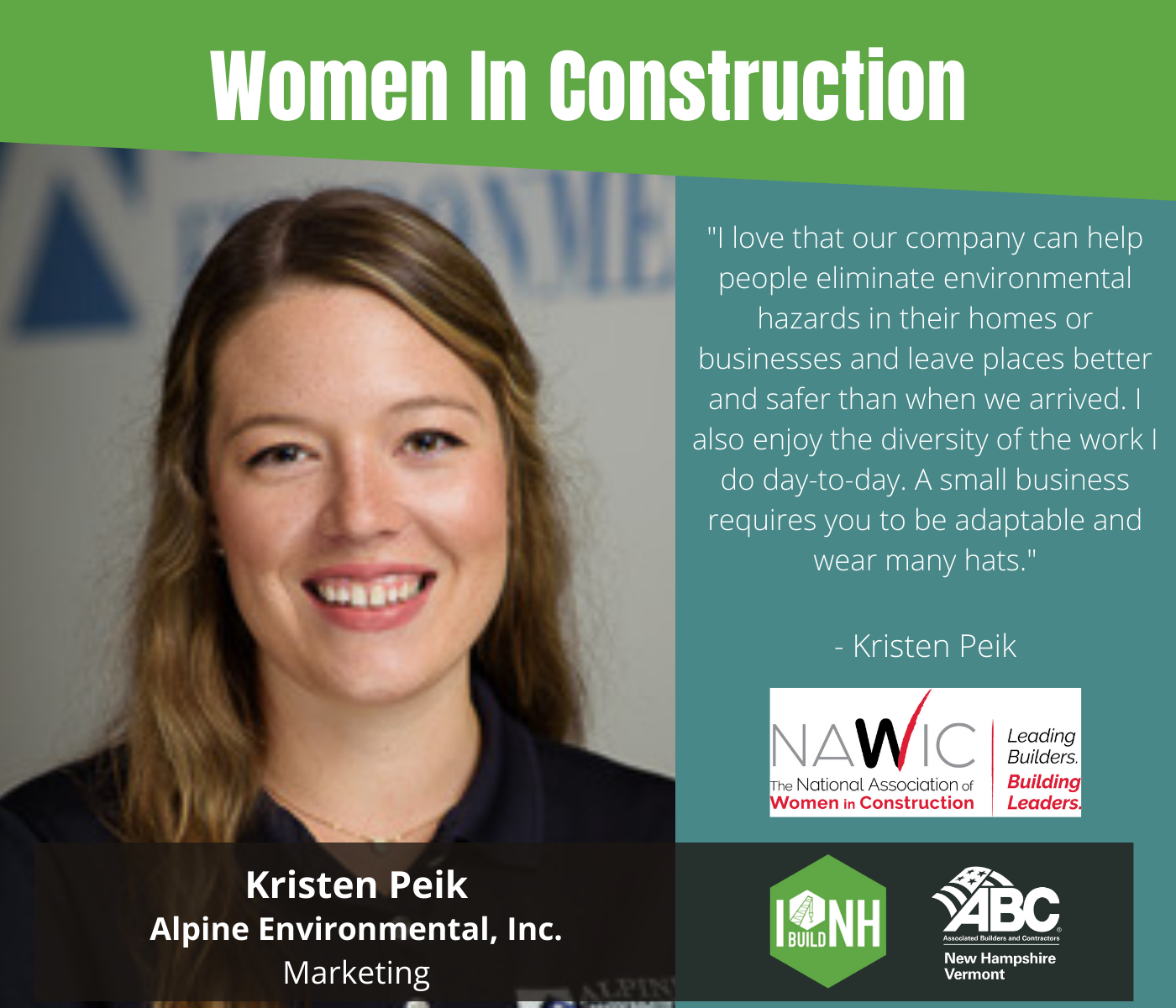 Why construction?
I appreciated the more tangible work that goes into the construction industry. Even though I'm not working in a hands-on position, it's rewarding to see the end result of the work our company as a whole provides our clients.
What is your education/training background?
I have a Bachelor's degree in Marketing from Assumption College.
How did you find yourself working in the construction industry?
My dad founded Alpine a year before I was born, so I grew up with it. Originally, I didn't plan to join construction myself for work but found that I really enjoyed the dynamic environment and people involved in the industry.
What do you enjoy most about your career?
I love that our company can help people eliminate environmental hazards in their homes or businesses and leave places better and safer than when we arrived. I also enjoy the diversity of the work I do day-to-day. A small business requires you to be adaptable and wear many hats.
What's the most interesting project you've worked on?
While I wasn't working full-time when this project was completed, the Barrett Farm in Concord, MA was probably the most interesting project I've been involved with. During the Revolutionary War, the Barrett House was the site of many meetings of Colonial Militia as well as where arms and ammunition were stored and hidden from the British.
Alpine carried out the meticulous removal of three hundred years' of paint to reach the original layer on all trim and other surfaces. The house is now a part of Minute Man National Historical Park. I loved the fact that we were able to contribute to the restoration of such a significant and historical building.
What advice do you have for women who want to work in the construction industry?
Don't be deterred by the construction industry being a male-dominated field. There are plenty of opportunities for women whether it's in the field, operations, or administration!
###
ABC NH/VT
Associated Builders and Contractors (ABC) is a national construction industry trade association representing nearly 21,000 chapter members. Founded on the merit shop philosophy, ABC and its 70 chapters help members develop people, win work and deliver that work safely, ethically, profitably and for the betterment of the communities in which ABC and its members work. ABC's membership represents all specialties within the U.S. construction industry and is comprised primarily of firms that perform work in the industrial and commercial sectors.
I Build New Hampshire
I Build NH represents the construction sector of the state through the Sector Partnerships Initiative (SPI). I Build NH represents companies involved in heavy construction like municipal water treatment systems and road building, electric and telecommunication infrastructure, civil engineering, heating/ventilation/air conditioning businesses and more.
National Association of Women in Construction
The National Association of Women in Construction (NAWIC) has over 115 chapters throughout the United States, including the NAWIC Granite State Chapter. NAWIC provides its members with opportunities for professional development, education, networking, leadership training, public service and more. NAWIC advocates for the value and impact of women builders, professionals and tradeswomen in all aspects of the construction industry.