This week we celebrate Women in Construction Week (WIC) and the many women who work in and make important contributions to our industry every day! We are pleased to share the stories from many of the women who work and live in NH and VT. The project was created in partnership with I Build NH and NAWIC Granite State Chapter.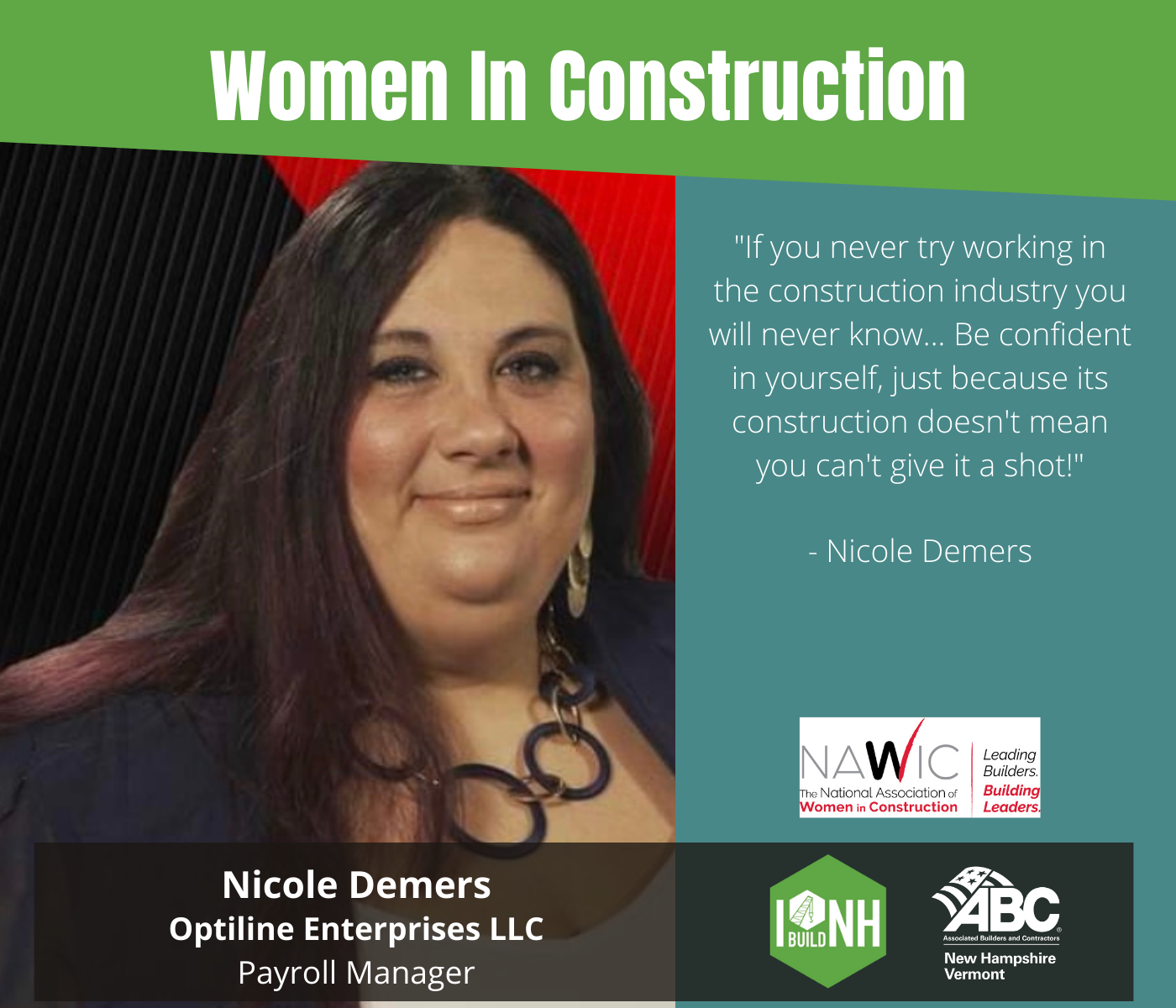 Why construction?
Construction was not so much an industry I was looking for but more that I fell into and loved. The projects we are on are always different and our team crushes it!
What is your education/training background?
My background is that I have a lengthy experience in bookkeeping/accounting & payroll. I have worked in many different types of positions within an office which makes me more familiar with all there is to be done within. I have worked in other types of fields as well, retail, restaurant, real estate, all of these have taught me how to work with different types of management along with hard work does go a long way.
How did you find yourself working in the construction industry?
It was and still is a dream job. A long time friend of mine, back about 15 years ago when I was doing payroll for their small company reached out to me about an open position they had for their growing drywall company. At this time in my life I was miserable at my current job and just doing my day to day. I went for an interview and was offered the position. Although I had been at my job for 8+ years I knew a change was needed and it was just fate.
I now find myself after 3 years working for a company that is incredible from the work they perform down to the team I work with and the product we produce is for so many others to enjoy.
What do you enjoy most about your career?
I enjoy the team we have, we build each other up and help when we need it. You spend more time at work than at home day to day and having a team that you know supports you gives me the boost I need to show them what I can do.
What's the most interesting project you've worked on?
I would have to say there is no just one project I have worked on that is the most interesting because the work I am doing now is challenging and that is what I was lacking. Yes I have an accounting degree but I was not using it to my full potential so I would just have to say it was the job costing and coding with over 300 employees that made it so interesting!
What advice do you have for women who want to work in the construction industry?
Try it, what will it hurt? If you never try working in the construction industry you will never know. If you find the right one there are companies that would love to have you work with them, so just give them a call!
Be confident in yourself, just because its construction doesn't mean you can't give it a shot!
###
ABC NH/VT
Associated Builders and Contractors (ABC) is a national construction industry trade association representing nearly 21,000 chapter members. Founded on the merit shop philosophy, ABC and its 70 chapters help members develop people, win work and deliver that work safely, ethically, profitably and for the betterment of the communities in which ABC and its members work. ABC's membership represents all specialties within the U.S. construction industry and is comprised primarily of firms that perform work in the industrial and commercial sectors.
I Build New Hampshire
I Build NH represents the construction sector of the state through the Sector Partnerships Initiative (SPI). I Build NH represents companies involved in heavy construction like municipal water treatment systems and road building, electric and telecommunication infrastructure, civil engineering, heating/ventilation/air conditioning businesses and more.
National Association of Women in Construction
The National Association of Women in Construction (NAWIC) has over 115 chapters throughout the United States, including the NAWIC Granite State Chapter. NAWIC provides its members with opportunities for professional development, education, networking, leadership training, public service and more. NAWIC advocates for the value and impact of women builders, professionals and tradeswomen in all aspects of the construction industry.