This week we celebrate Women in Construction Week (WIC) and the many women who work in and make important contributions to our industry every day! We are pleased to share the stories from many of the women who work and live in NH and VT. The project was created in partnership with I Build NH and NAWIC Granite State Chapter.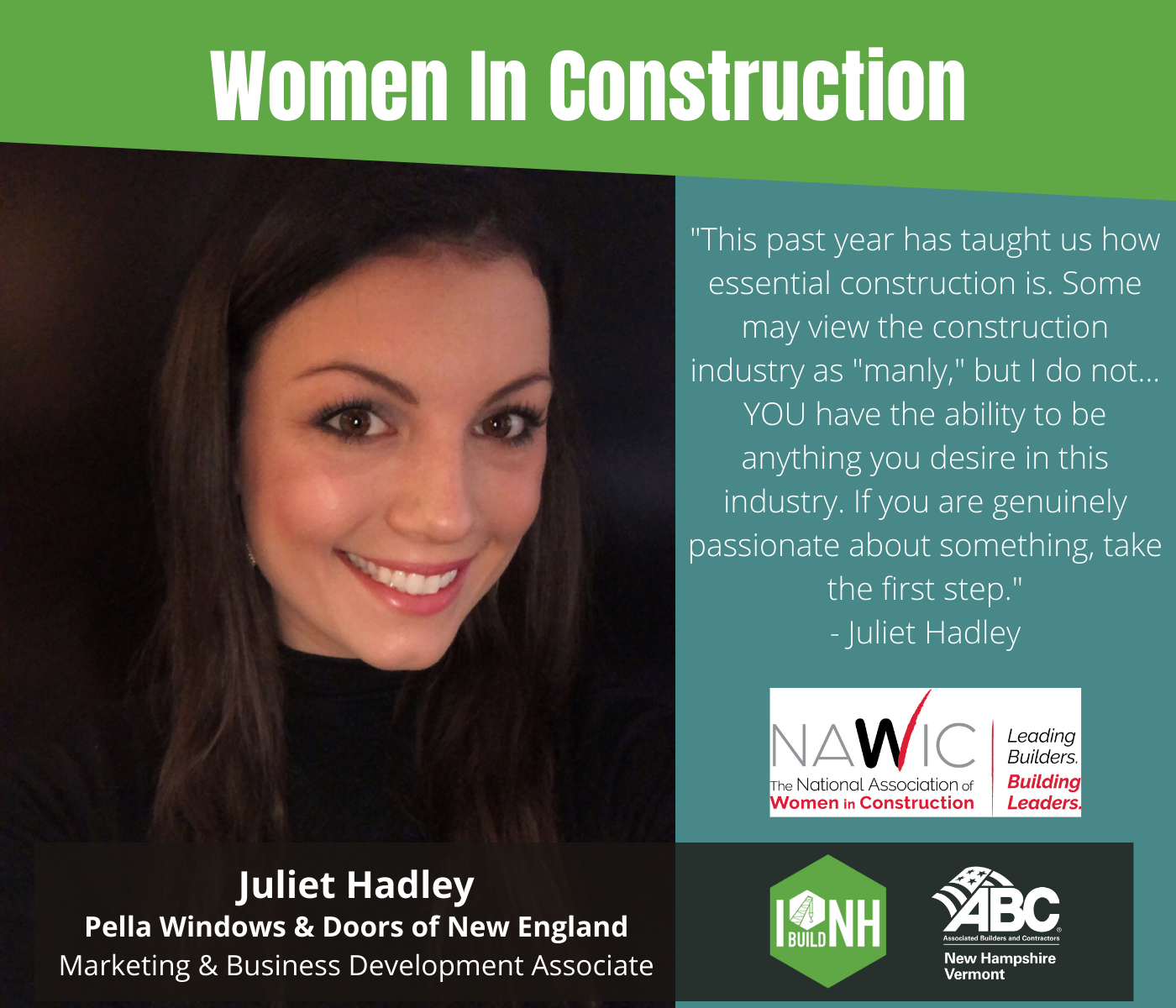 Why construction?
The construction industry is a staple to our country and economy. This industry will never go away and is something that everyone will always need across the country. Humans need shelter, and businesses need facilities to work from and store items. The amount of hard work, dedication, and precision that goes into every building – newly built or renovated – is strategic and well thought out.
What is your education/training background?
I graduated from Elon University in 2019 with a double major in Entrepreneurship and Human Resource Management. I began working full-time at Pella New England during the summer of 2019.
How did you find yourself working in the construction industry?
Since I was born, Pella has been in my life. My father has been in the Pella Distribution Industry for 30 years and has been a Pella Distribution Owner for 25 years.
Whether it was listening in on his business calls, going into the office with him, or just hearing the word "Pella" at the dinner table when I was younger, Pella has shaped me into who I am today. I learned more about the construction industry than I ever imagined or comprehended at the time.
After graduating from Elon, I couldn't picture myself working in any other industry than the construction industry. I began my career at Pella New England interning during the summers of college. Once I graduated, I became full-time and shadowed my sister and brother-in-law until I was promoted to the Marketing and Business Development Manager.
What do you enjoy most about your career?
I enjoy many things about my career, but some aspects make it extra special to me. Working with my family members (dad, sister, brother-in-law) is something I will cherish for the rest of my life. I am truly grateful for this opportunity and understand how lucky I am to have this experience.
Having a family dynamic at Pella New England has allowed our whole company to act as a family. We are family-owned and expect everyone to treat each other with respect and kindness with full transparency.
What's the most interesting project you've worked on?
The most exciting project I've worked on is the current construction of our brand new, state-of-the-art headquarters and warehouse located in Rochester, NH. This warehouse will solely serve Maine & New Hampshire. All of us at Pella New England are incredibly excited about this project. It will allow us the ability to continue providing top-level service to our customers.
What advice do you have for women who want to work in the construction industry?
This past year has taught us how essential construction is. Some may view the construction industry as "manly," but I do not. I see us, women, taking over this industry. YOU have the ability to be anything you desire in this industry. If you are genuinely passionate about something, take the first step. Go to work, do your job, and thrive like you know you can! The world we are living in has a lot of gossip – ignore it. Focus on you and only you and what you want to become.
###
ABC NH/VT
Associated Builders and Contractors (ABC) is a national construction industry trade association representing nearly 21,000 chapter members. Founded on the merit shop philosophy, ABC and its 70 chapters help members develop people, win work and deliver that work safely, ethically, profitably and for the betterment of the communities in which ABC and its members work. ABC's membership represents all specialties within the U.S. construction industry and is comprised primarily of firms that perform work in the industrial and commercial sectors.
I Build New Hampshire
I Build NH represents the construction sector of the state through the Sector Partnerships Initiative (SPI). I Build NH represents companies involved in heavy construction like municipal water treatment systems and road building, electric and telecommunication infrastructure, civil engineering, heating/ventilation/air conditioning businesses and more.
National Association of Women in Construction
The National Association of Women in Construction (NAWIC) has over 115 chapters throughout the United States, including the NAWIC Granite State Chapter. NAWIC provides its members with opportunities for professional development, education, networking, leadership training, public service and more. NAWIC advocates for the value and impact of women builders, professionals and tradeswomen in all aspects of the construction industry.