This week we celebrate Women in Construction Week (WIC) and the many women who work in and make important contributions to our industry every day! We are pleased to share the stories from many of the women who work and live in NH and VT. The project was created in partnership with I Build NH and NAWIC Granite State Chapter.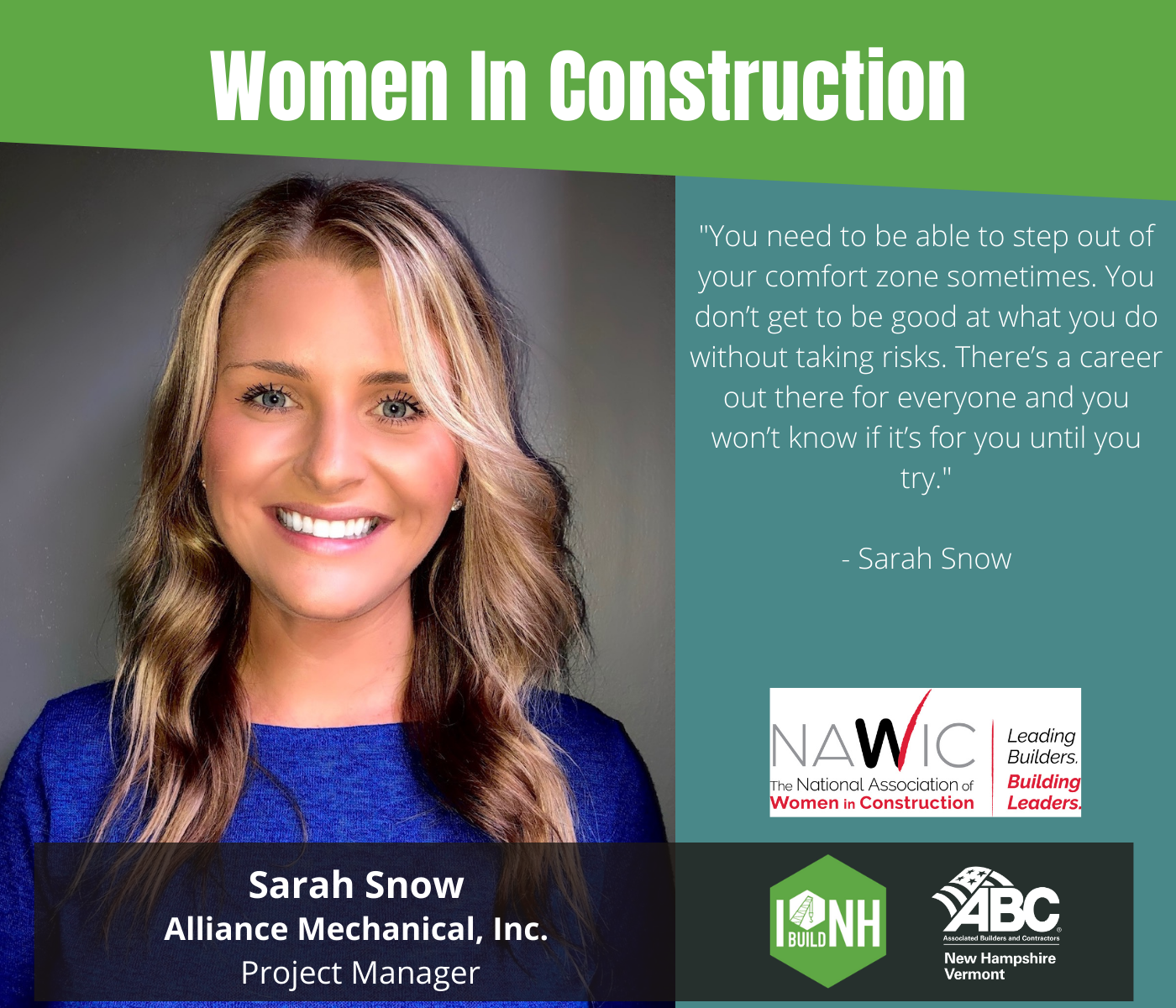 Why construction?
For me, construction is a great career fit because you can apply what you learn and know at work into your daily life. It's fast paced and something new every day. It is problem solving and challenges you to think outside the box. Each person on my team brings a different set of skills to the table and you must work together throughout the entire project to make it a success. The construction industry will never tire of jobs and provides opportunities for so many people and is a great career to make an impact in the community.
What is your education/training background?
I have taken a handful of courses over the last 5-10 years, many focusing on Management and Leadership as well as Estimating and Print Reading. A lot of what I have learned is from visiting jobsites, working side-by-side and hands-on with techs and installers and asking questions.
How did you find yourself working in the construction industry?
I was fortunate to come out of college and start my career at a local construction company which opened the doors for advancement not only there but with the company I'm with now. I made a switch in companies to Alliance in 2015 and have had nothing but growth here.
What do you enjoy most about your career?
One of my favorite parts of my job is being able to travel all over the state of NH and VT and being able to meet new people. It's a great feeling knowing you are building valuable working relationships with people, which often opens the doors for future work. I also love to see a project evolve throughout the whole process, being able to visualize a building from a set of drawings through to completion and every step in between. It is not only fascinating but rewarding.
What's the most interesting project you've worked on?
One of the most interesting, yet challenging projects to date was a new construction building we were contracted to do the HVAC and plumbing. Inside of this building was a subzero climate cold chamber that needed to be able to remain at -65 degrees F at all times to be able to test the functionality of certain machinery and vehicles in it at extreme temperatures. This project utilized heat tracing in the underground plumbing and a Vehicle Exhaust System that was rated for up to 1400 degrees Fahrenheit. A wide range of knowledge was used on this project but collaboratively we made it a success.
What advice do you have for women who want to work in the construction industry?
Develop confidence and be yourself. Never be afraid to ask questions and don't give up when it gets hard. Some people will make inaccurate assumptions about your knowledge and qualifications but prove them wrong! You need to be able to step out of your comfort zone sometimes, you don't get to be good at what you do without taking risks. There's a career out there for everyone and you won't know if it's for you until you try.
###
ABC NH/VT
Associated Builders and Contractors (ABC) is a national construction industry trade association representing nearly 21,000 chapter members. Founded on the merit shop philosophy, ABC and its 70 chapters help members develop people, win work and deliver that work safely, ethically, profitably and for the betterment of the communities in which ABC and its members work. ABC's membership represents all specialties within the U.S. construction industry and is comprised primarily of firms that perform work in the industrial and commercial sectors.
I Build New Hampshire
I Build NH represents the construction sector of the state through the Sector Partnerships Initiative (SPI). I Build NH represents companies involved in heavy construction like municipal water treatment systems and road building, electric and telecommunication infrastructure, civil engineering, heating/ventilation/air conditioning businesses and more.
National Association of Women in Construction
The National Association of Women in Construction (NAWIC) has over 115 chapters throughout the United States, including the NAWIC Granite State Chapter. NAWIC provides its members with opportunities for professional development, education, networking, leadership training, public service and more. NAWIC advocates for the value and impact of women builders, professionals and tradeswomen in all aspects of the construction industry.