This week we celebrate Women in Construction Week (WIC) and the many women who work in and make important contributions to our industry every day! We are pleased to share the stories from many of the women who work and live in NH and VT. The project was created in partnership with I Build NH and NAWIC Granite State Chapter.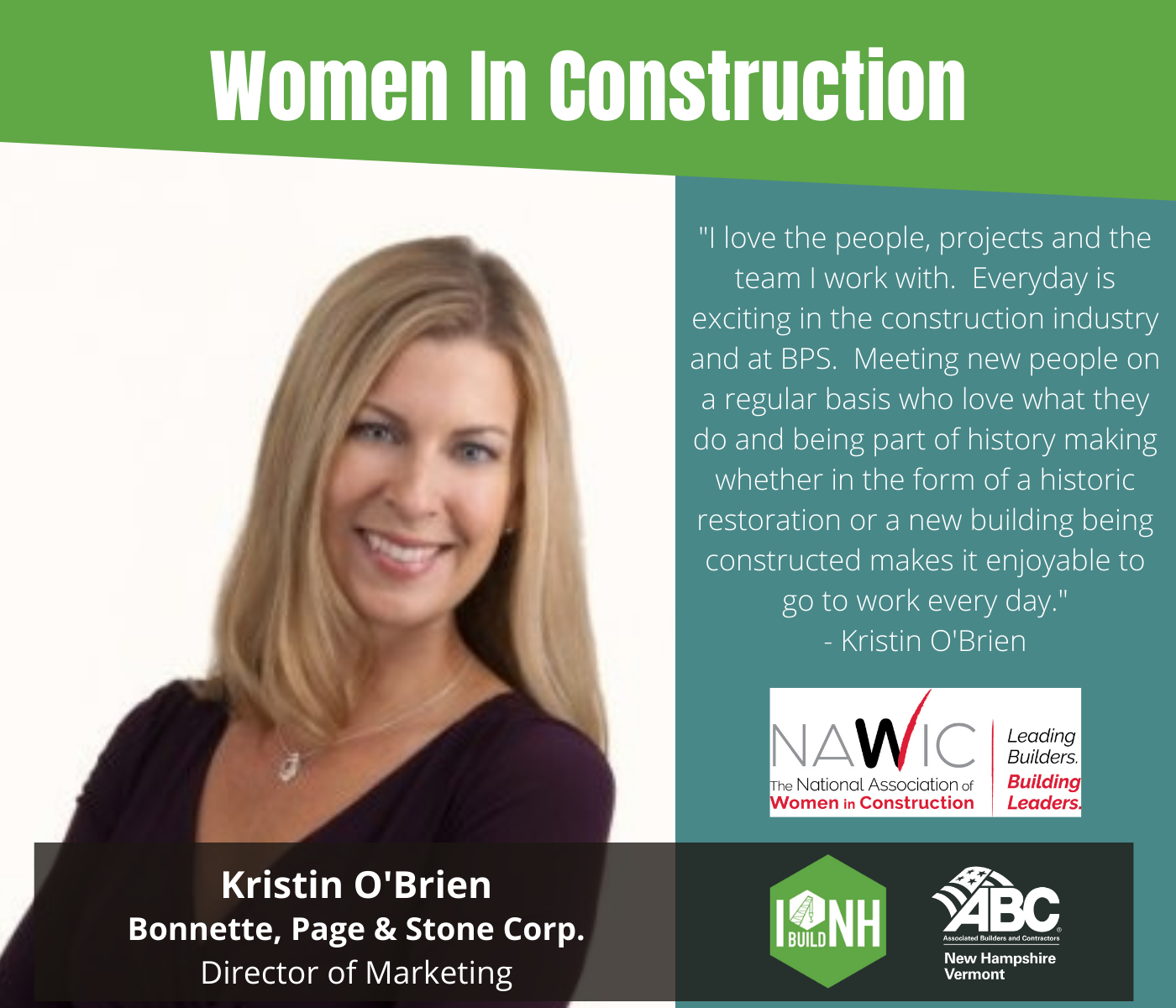 Why construction?
I have been involved in sales and marketing for other various industries for the past 25 years. I recently switched my focus to marketing for construction this past fall and I love it! This industry is both challenging and exciting. There are so many different components to the construction industry, there is never a dull moment and I feel like I learn something new every day. I also enjoy the people I have met and continue to meet, salt-of-the-earth folks.
What is your education/training background?
I have 25+ years sales/marketing experience in various industries and a B.S. in Business Administration from the former Whittemore School of Business at the University of New Hampshire.
How did you find yourself working in the construction industry?
My employer, Bonnette, Page & Stone Corp. has been a visible business figure in the Lakes Region for many years so I have been familiar with them, their projects, their quality of work and their amazing work ethics/customer service for quite some time. An opportunity presented itself last fall to join the BPS team and lead their marketing efforts throughout New Hampshire.
What do you enjoy most about your career?
I love the people and the projects and the team I work with. Everyday is exciting in the construction industry and at BPS. Meeting new people every day and being part of history making in the form of restoring old buildings with great stories of the past and seeing new buildings be constructed with many new future stories to be told.
What's the most interesting project you've worked on?
They are all interesting. Especially being still new to the industry, I find every project to be amazing.
What advice do you have for women who want to work in the construction industry?
Go for it! It is proving to be one of the most welcoming industries I've ever worked in.
###
ABC NH/VT
Associated Builders and Contractors (ABC) is a national construction industry trade association representing nearly 21,000 chapter members. Founded on the merit shop philosophy, ABC and its 70 chapters help members develop people, win work and deliver that work safely, ethically, profitably and for the betterment of the communities in which ABC and its members work. ABC's membership represents all specialties within the U.S. construction industry and is comprised primarily of firms that perform work in the industrial and commercial sectors.
I Build New Hampshire
I Build NH represents the construction sector of the state through the Sector Partnerships Initiative (SPI). I Build NH represents companies involved in heavy construction like municipal water treatment systems and road building, electric and telecommunication infrastructure, civil engineering, heating/ventilation/air conditioning businesses and more.
National Association of Women in Construction
The National Association of Women in Construction (NAWIC) has over 115 chapters throughout the United States, including the NAWIC Granite State Chapter. NAWIC provides its members with opportunities for professional development, education, networking, leadership training, public service and more. NAWIC advocates for the value and impact of women builders, professionals and tradeswomen in all aspects of the construction industry.